Medium-Term Management Plan
CTCGroup Medium-Term Management Plan (-)
Opening New Horizons - New Horizons for a New Look
Based on the corporate philosophy of "contributing to the realization of an affluent society with dreams by challenging the possibilities of IT to change tomorrow," CTC has formulated a three-year medium-term management plan, "Opening New Horizons," which covers the period from fiscal 2018 to fiscal 2020, in order to play a role in the evolution of the IT industry as a leading company.
CTC has designated the CTC Group's activity areas as "Horizons," and the entire CTC Group is working on the four Horizons of "Business Innovation," "Strengthening Our Strengths," "Exploring New Fields," and "Strengthening Our Management Base. growth.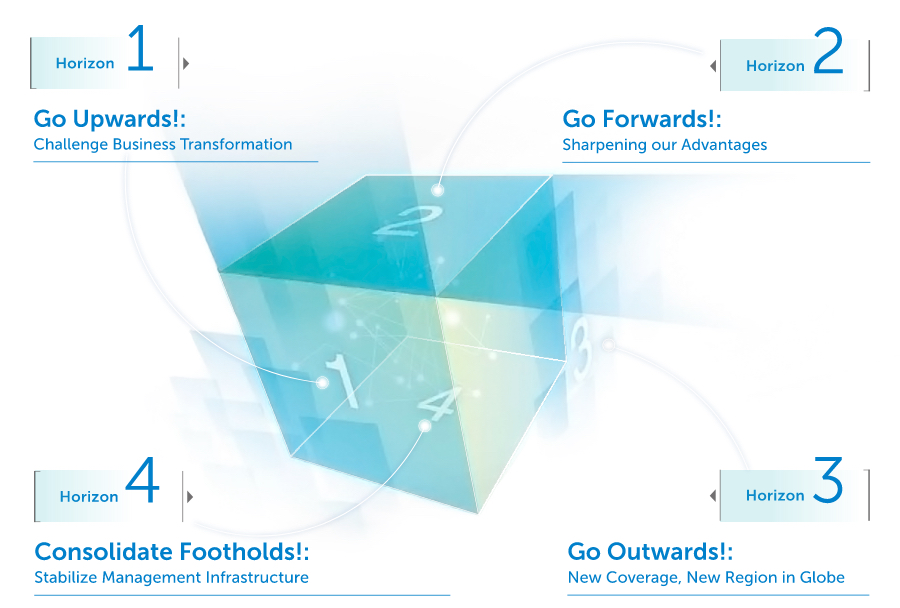 Key Measures in the Medium-Term Management Plan: Four Horizons
Horizon

1 Expanding Upward:

The Challenge of Business Innovation

We will build partnerships that grow with our clients by expanding our consulting services and strengthening our application development capabilities.

Co-creation of digital business with our clients:
Create new digital business with our clients.

Challenge to expand the application layer:
We will proactively promote business application development by incorporating new technologies and methods of application development.

Horizon

2 Expanding Forward:

Build on our strengths

Further strengthen the CTC Group's strengths in IT infrastructure and cloud computing to expand and stabilize revenues.

Challenge to become the No.1 cloud integrator:
Strengthen our cloud integration capabilities, including hybrid cloud and cloud-native environments with a focus on DevOps.

Establishing an overwhelming presence in the infrastructure and network field:
Strengthen the Group'sprofitability in the IT infrastructure and network field, which is one of the Group's strengths, by cultivating SDN/NFV, AI and IoT technologies.

Accelerate the expansion of the recurring business:
Stabilize earnings by strengthening cloud services, core system operation services, and managed security services (MSS).

Horizon

3 "Going Outside":

developing new fields and regions

Explore new geographies and business areas and establish businesses that will contribute to future revenue growth.

Strengthen and expand overseas business:
expand our service and R&D sites to provide IT services globally.

Challenge open-innovation business development:
expand collaboration with different industries, in addition to collaborating with start-up companies, venture funds for joint ventures with customers, and utilizing DEJIMA, a space for open innovation.

Horizon

4 Solidify our footing:

Strengthen our management base

We will build a solid management base as the foundation for all our activities.

Human resource development and innovation in work styles:
We will work to create an "attractive company" by expanding human resource systems that contribute to improving the job satisfaction of employees and promoting innovation in work styles to support diverse work styles.

Strengthen Group management and governance:
Work to enhance corporate value by increasing operational efficiency and specialization through the use of AI and RPA.

Improve quality and customer satisfaction:
Conduct annual inspections of issues as a business partner by listening to customer feedback and reflecting it in improvements, and provide reliable IT services.

Enhance shareholder returns:
Implement a capital policy with an eye on increasing ROE.
Quantitative Targets for FY2020
4 Horizons to achieve the next quantitative goal.