Jul 23, 2013 ITOCHU Techno-Solutions Corporation
ITOCHU Techno-Solutions Corporation (headquartered in Chiyoda-ku, Tokyo; Satoshi Kikuchi, President & CEO; hereinafter "CTC") announced today that CTC has built a Virtual Store system that will be exhibited at the NIPPON ACCESS Food Convention 2013 to be held by NIPPON ACCESS, INC. (headquartered in Shinagawa-ku, Tokyo; Shigeharu Tanaka, President & CEO; hereinafter "NIPPON ACCESS") on July 24th and 25th. Virtual Store is an initiative that aims to help resolve the issues faced by retail businesses by enabling them to stock a wide range of different product lines, for example frozen food or beverages, in a small area.
In what is the first year of its 5th medium-term management plan, NIPPON ACCESS is seeking to create new value under the slogan "Creation and Development: Make ACCESS VALUE 2015". It is planned to exhibit Virtual Store at NIPPON ACCESS Food Convention 2013 as an "optimum selling space tailored to the living scenarios of consumers" as well as "a selling space with senior friendly features" that incorporates IT capabilities enhanced by NIPPON ACCESS.
Virtual Store is a system for purchasing goods that uses devices such as smartphones to read the QR code of goods selected from posters and displays installed to look like store shelves. The advantages of the system for retail businesses are that it enables them to sell at out-of-store locations and to use the in-store space more effectively, as well as creating additional opportunities to make sales outside business hours. The advantages for customers are that it affords them increased opportunities to buy the goods they need, and does away with the need to carry heavy packages. NIPPON ACCESS is looking into incorporating the Virtual Store function into the online supermarket function retained by retail businesses, and is working to optimize distribution, including logistics.
CTC has built the Virtual Store system as the IT services infrastructure that translates the concept of the Virtual Store into reality, by offering online marketing solutions based on CTC's cloud online supermarket service 1. CTC has also been responsible for the development of applications to read the QR code from a smartphone in the poster-type Virtual Store mainly deployed outside the store, together with the applications to link up to the payment function in the online supermarket. In addition, CTC is building digital signage devices and dedicated content.
The spread of devices such as smartphones and tablets is resulting in changes in consumer purchasing behavior, creating a need for retail businesses to have a sound understanding of the process leading up to purchase and to link all channels, with the customer at the center. CTC also plans to develop dedicated content for the communication signage 2 that constitutes next-generation store shelves. Starting with Virtual Store, CTC will offer e-commerce solutions such as commercialization consulting, online supermarket services that embody the Virtual Store, accumulated data analysis services, and so forth, thereby offering new services and helping to create a distribution business system that is effective for customers in the retail industry.
About Asahi Business Solutions Corp.
1 Online supermarket service
A cloud service that provides all the systems an online supermarket requires for a monthly fee. The service can be started with one store for a minimum installation time of 3 months. The service offers total support, from online supermarket commercialization support such as income and expenditure simulation, to payment, logistics, and advertising and publicity. Strong support is provided for the operation of online supermarkets using the rock solid security and high-usability systems that only CTC can offer.
2 Communication signage
Whereas existing digital signage is updatable digital advertising (POP), communication signage utilizes personalized recommendation technology based on image recognition technology, and touch panel technology, allowing actual purchases to be made.
Virtual store exhibition at Osaka exhibition hall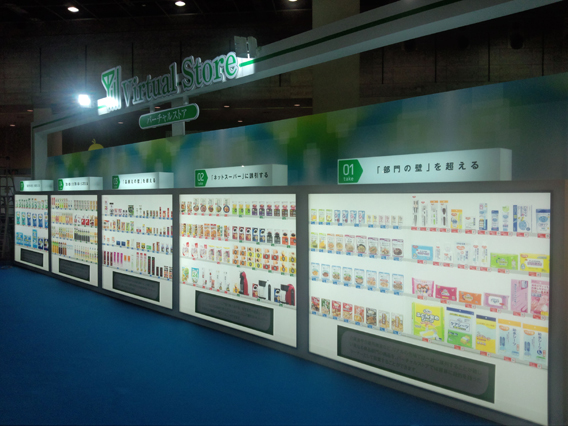 Contact Information
ITOCHU Techno-Solutions Corporation, CTC Corporate Communications Dept.
E-mail:press@ctc-g.co.jp
You can contact us via the web form
Currently displayed information is correct at the time of the announcement. Please be aware that information displayed may differ from the very latest information.