Mar 03, 2017 CTC Life Science Corporation
CTC Life Science Corporation (Katsuyuki Shirota, president & CEO; headquartered in Shinagawa-ku, Tokyo; hereinafter "CTCLS"), a Group company of ITOCHU Techno-Solutions Corporation, which offers ICT solutions for the life science industries including the pharmaceutical industry, today commences to provide ta-Scan, a solution to assist the clinical study program implementation. CTCLS has for the first time in Japan established an agency agreement with MDCPartners, headquartered in Belgium,. ta-Scan is a solution that provides access to clinical trial information based on medical big data, via search interfaces, dashboard visualizations and trial recruitment simulations in any medical indication. CTCLS will provide license sales, introduction support, training, and maintenance support, and aims for 20 orders over three years, targeting domestic pharmaceutical companies and medical equipment manufacturers.
When conducting clinical studies, which are the final stage of approval for new drugs, Pharma companies need to research and evaluate available expertise (doctors, patients, facilities, and drugs) to plan appropriately and for quality outcomes. This needs to happen accurately and in a short time frame. Conventionally, in many pharmaceutical companies, the responsible teams manually collect and analyze the necessary data to draft those plans. The clinical development phase is the most expensive and lengthy aspect of drug development (more than 30% of the total cost). Tools are needed to speed up, streamline and increase the efficiency and quality of clinical research
ta-Scan is an integrated web-based solution to assist clinical study planning and execution. It automatically collects the necessary data for making clinical study plans from hundreds of public databases worldwide. Applying unique semantic technology*1 , pieces of information are inter-linked, rendering meaning to the data, thus building comprehensive databases for clinical studies. ta-Scan enables systemic searching for information, including list of investigators and researchers who have influence worldwide (KOL: Key Opinion Leaders) and leading investigators and facilities of clinical trials, as well as medicinal experience, sponsors, relevant literature, competing clinical study information, and epidemiological information from all countries. ta-scan is updated weekly and finds subtle relationships that are not easily found through manual data collection and human analysis, thus minimizing mistakes.. The platform provides impactful visual tools showing the ranking of KOL and the results of clinical studies simulations. MDCPartners reports actual performance where the clinical development period could be reduced by two months, because of its time saving effect in planning by ta-Scan
With offering ta-Scan, it is our objective at CTCLS to help reduce clinical study periods and lowering costs in clinical research and development for pharma drug, contributing to the optimization of our customer's investment and the enhancement of competitiveness.
Screenshot of ta-Scan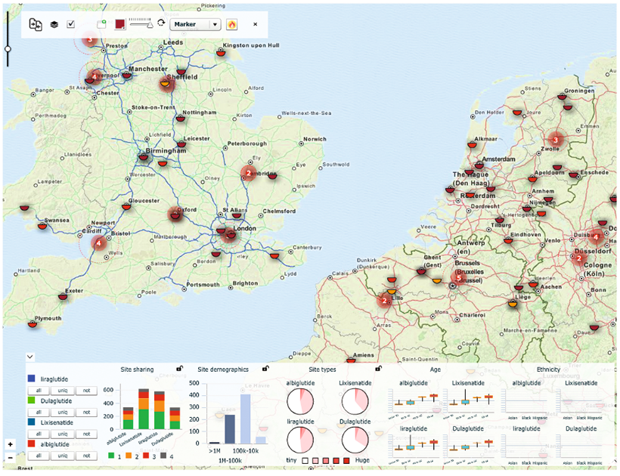 For detailed information regarding ta-Scan, please see the following website.
About MDCPartners
MDCPartners cvba, established in 1999, in Belgium, is an IT solution provider specializing in business intelligence for pharmaceutical and biotech companies. Taking full advantage of its proprietary technologies such as data-mining and semantics, it has offered solutions to support clinical study optimization and competitive analysis based on the latest science/clinical study data. The company has provided its major product, ta-Scan, to 35 pharmaceutical companies in Europe and US in almost 10 years since its release, and contributed to the efficiency of clinical study programs.
*1

Semantics: A technology for computers to understand user's intentions in a search and provide appropriate information, including related information
*

CTCLS will merge with ITOCHU Techno-Solutions Corporation on April 1, and start as Life Science Division, which will provide solutions to resolve issues for customers in the life science/healthcare industries.
Currently displayed information is correct at the time of the announcement. Please be aware that information displayed may differ from the very latest information.