Organization Structure
Offering total IT services from our clients'point of view, through our closely knit organizational structure
CTC's organizational structure is composed of six business groups. We encourage closely-knit cooperative efforts between business groups and divisions, with the aim of offering services that support our clients across all phases of the IT life cycle; through sharing of operational and service business resources (focused primarily around our data centers) and cross-divisional deployment of sophisticated operational know-how (primarily in the field of distribution).
IT Services Group is a cross-divisional organization that consolidates a wide range of resources such as data centers, clouds, and security; carrying out everything from planning & development to sales promotions of total/integrated services.
It is under this kind of organizational structure that CTC creates unique, sophisticated and progressive solutions for its clients.
CTC's Organization
To support our customers by leveraging the strength of the whole Group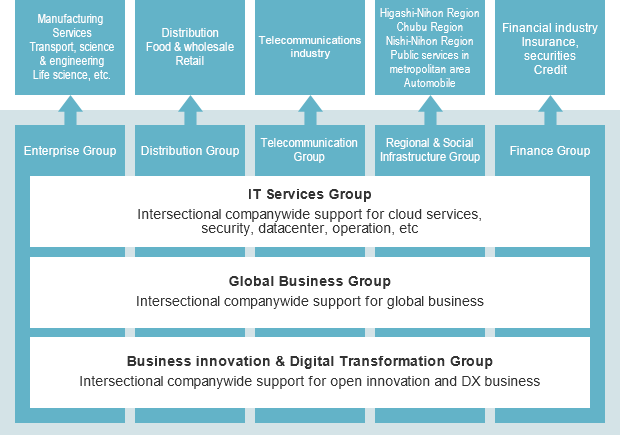 Enterprise Group
The Enterprise Group offers total solutions, that include consulting, product sales, development, maintenance and operation, utilizing the capabilities of the CTC Group to clients in industrial fields such as manufacturing, media, services, automotive, transport, life sciences and healthcare. In addition to infrastructure building/configuration and systems development, it promotes multi-cloud using IaaS and PaaS to provide the best solution for customer needs. In the science and engineering fields, it also provides high-level expertise including consultation of data analysis.
Distribution Group
The Distribution Group provides optimal solutions for companies such as distribution, food and wholesale, retail, and financial companies such as credit, insurance and securities. The core system of a general trading company supporting global activities, the store system of a convenience store/gas station that has become part of an important social infrastructure, a mission-critical system or a contact center for large credit card companies, and large operation management services, etc. It supports customers with a total of services ranging from maintenance and operation, cloud services, data center services and outsourcing services, focusing on development business.
Telecommunication Group
The Telecommunication Group offers mission critical, high-difficulty system building services such as large-scale networks and databases, high-volume transaction handling and load-distributed processing for major telecommunications carriers, broadcasters, CATV (Cable Television), ISPs (Internet Service Providers), IDCs (Internet Data Centers), OTT (Over-The-Top) and other service providers.
In recent years, we have focused our energies into traffic processing technologies so support the use of smartphones. We are also advancing our own cloud services (SaaS), and proactively developing and deploying various other services, including secure e-mail, storage and telematics services.
Regional & Social Infrastructure Group
The Regional & Social Infrastructure Group offers total solutions to clients in public utility and educational field supporting social infrastructure such as postal service, electric power, municipal and central government and regional private enterprise in the areas of Greater Tokyo, Northern Japan, Chubu (Central Japan) and Nishi-Nihon (Western Japan).
Financial Services Group
The Financial Services Group offers total solutions ranging from planning proposal to product sales, system development and building/configuration, maintenance, cloud, data center, and outsourcing service for the financial field. For megabanks, we develop new services using Fintech and supports regulatory compliance and global business deployment in domestic/overseas market with Regtech.
IT Services Group
The IT Services Group offers outsourcing services (including cloud services) focusing primarily around data centers, as well as high quality maintenance and operational support services that make effective use of the CTC Group's unique experience and the latest technologies to deliver both safety and peace of mind for client systems.
The group also communicates information regarding core, cross-divisional technologies and solutions to other business groups and divisions within the company, trains and develops human resources who can contribute to the enhancement of the latest cutting-edge technologies, and provides technical support for various projects.
Through close-knit cooperation with the various other business groups and CTC Group companies, the IT Services Group provides total support services across all phases of the IT life cycle.
Global Business Group
In charge of global business and overseas group companies. it is promoting SI business and service development overseas, and developing new bases.