Compliance
Compliance Initiatives
Basic Stance on Compliance
Compliance Promotion Structure
In order to promote thorough compliance within the CTC Group, we have established a "CTC Group Code of Conduct" and various internal regulations, appointed a Chief Compliance Officer (CCO) and established a Compliance Committee that acts as an advisory body to the Management Committee; and are seeking to enhance the functionality of these organizational structures through the appointment of overall Compliance Management Supervisor responsible for each business group and/or operating company, and Compliance Supervisors responsible for each department and/or team.
These Compliance Supervisors check the progress of their organization's compliance initiatives on a once quarterly basis, and report to the Compliance Committee. In addition to this, we seek to ensure that compliance awareness is thoroughly instilled in corporate officers and employees, through the holding of continuous educational training sessions and so on.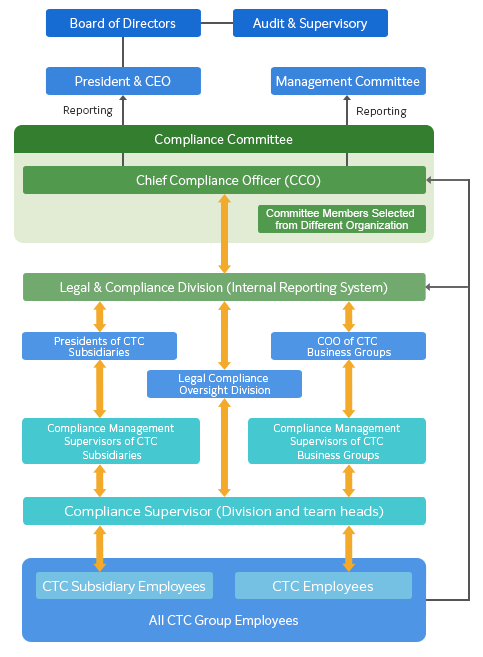 Whistle-blowing Systems
The CTC Group has established internal information provision systems (helplines) that enable employees to report and consult regarding compliance violations. Reports can be made via two routes, reporting to dedicated internal point of contact, or to an advisory attorney; and we guarantee that employees making such reports will not suffer any detriment or disadvantage when making a report via either route. Group employees, temporary employees and employees of CTC Group's business partners may make use of CTC reporting routes. In this way, we are focusing our energies into reducing and preventing compliance violations.
Compliance Awareness Surveys
Every other year, the CTC Group conducts Compliance Awareness Surveys of all of its corporate officers and employees in order to ascertain the actual state of penetration of compliance awareness. The results of these surveys are analyzed and utilized in formulating, implementing and improving our compliance measures.
Compliance Training and Thorough Circulation of Compliance Information
The CTC Group recognizes educational training as one of the most important action items to be implemented in order to ensure thorough compliance. We seek to ensure that compliance awareness is properly instilled in each and every one of our corporate officers and employees-including contracted/outsourced employees and personnel-by conducting regular training every year, as well as other initiatives to ensure that compliance-related knowledge is made thoroughly known by all.
Response to Laws and Regulations
The CTC Group has established mechanisms for constantly acquiring the latest, most up-to-date information in order to ensure a thorough response to laws, regulations, byelaws and industry guidelines, etc. We have also established our own CTC Group Law & Regulation Guidelines, which organize and summarize the laws and regulations that each group company should observe and adhere to. These guidelines are displayed on the Group intranet to enable employees to check them at any time.
The main departments responsible for laws and regulations spread information via internal morning broadcasts, and conduct regular e-learning and group assembly training sessions with the aim of developing the necessary knowledge required in order to implement proper observance of laws and regulations; and make regular reports to the Compliance Committee regarding the current state of compliance within the organization.
We also check the state of practical implementation of such measures within these departments through internal audits, and endeavor to ensure that proper operational management is being conducted to ensure a more appropriate response to laws and regulations.
Response to Ensure Fairness in Transactions and Prevent Corruption
The CTC Group has established its own "CTC Group Policy on Fair Trade and Prevention of Corruption".
Based on this policy, the Group works to prevent violations of laws and regulations through the establishment and appropriate operation of relevant internal rules, and engages in sales activities in accordance with sound business practices and commonly accepted social norms. The Group also periodically monitors the state of its compliance with relevant laws and regulations, and the operational state of its internal rules, and works to make continuous improvements. To date, the CTC Group has never been investigated by authorities in relation to acts of collusion, cartel activities or bribery.
Click here to see more details of "CTC Group Policy on Fair Trade and Prevention of Corruption"
Elimination of Anti-Social Forces
The CTC Group has clearly expressed that it takes a firm stand against anti-social forces and organizations that threaten the order and safety of civil society in its "CTC Group Code of Conduct", and is working to make this stance thoroughly known amongst all of its corporate officers and employees.
Number of Compliance Violations
As a result of our efforts to ensure thorough compliance, no serious compliance violations have taken place within the CTC Group over the last three years.